This shop has been compensated by Collective Bias, Inc. and its advertiser. All opinions are mine alone. #SKSHarvest #SeasonalSolutions #CollectiveBias
Apple and Brown Sugar Body Scrubs made with dehydrated apples, brown and white sugar, vanilla, and pumpkin pie spice.
Autumn is upon us, and as the weather cools I find myself craving those classic seasonal details I grew up with. Eating bright red apples right off the tree is one thing I definitely miss from New England. Hay rides and cider doughnuts would be awfully nice too.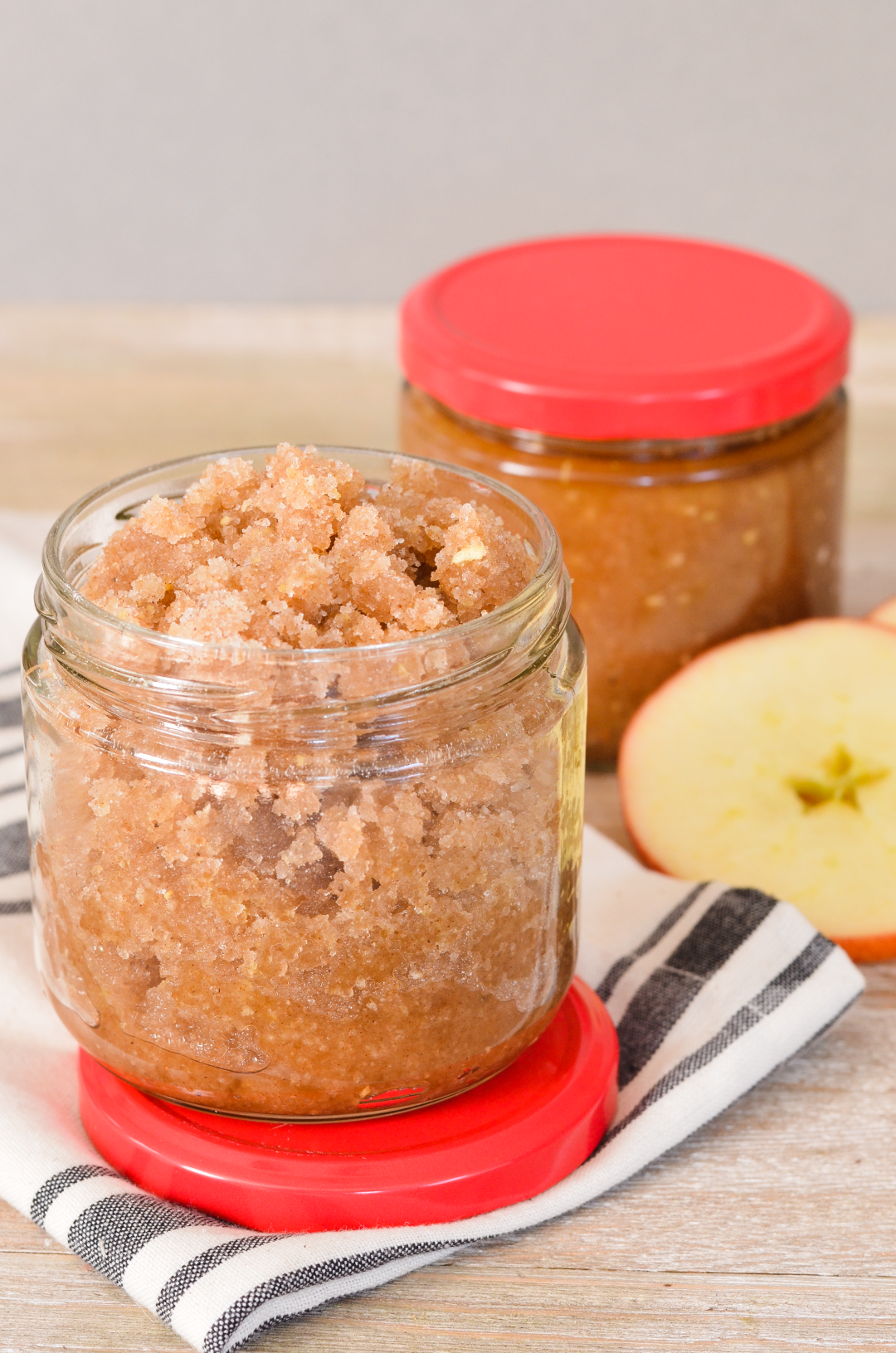 Hover over this image to shop the jars I used!
Being down here in Texas, the season feels a little different. The weather takes much longer to cool down, so instead of freshening up my sweater collection, I'm still pulling on shorts and sandals every morning. I just planted a garden, and even have a camping trip planned for November.
I have my ways of honoring the Autumn of my childhood though. This body scrub recipe, for instance, uses dehydrated apples to bring a sweet and subtle scent to my exfoliation routine. A touch of brown sugar and a sprinkle of vanilla and pumpkin pie spice help make this scrub smell extra yummy. It's warm, and spicy, and reminds me of curling up with a good book under a shady tree at the end of September.
Apple and Brown Sugar Body Scrub
Makes one 12-ounce jar
Ingredients
3/4 cup white sugar
1/4 cup brown sugar
1/4 cup dehydrated apples
1/2 teaspoon pumpkin pie spice
1/4 teaspoon vanilla extract
1/4 cup sweet almond oil
1/4 cup coconut oil, melted
Directions
Combine sugars in small mixing bowl and stir well. Break up any clumps in the sugar with the back of a spoon.
Pulverize the dehydrated apples using a food processor, then add the powder to the mixing bowl along with the pumpkin pie spice.
Stir dry ingredients well, then add oils.
Transfer mixture to jars and store in a cool dry place until use. Scrubs should remain fresh as-is for about 3 weeks. Once opened, scrubs should be used quickly – within 3 – 5 days.
Body Scrubs with Apple and Brown Sugars is perfect for gifting – especially when they are packed up in gorgeous glass jars. For this recipe, I worked with SKS Bottle and Packaging, supplier of glass, plastic, and metal containers for use in food, canning, crafts, and cosmetics. With over 6,000 containers offered online, I can always find a great packaging solution for my homemade goodies.
SKS Wide Mouth Canning Jars are especially well suited to packaging body scrubs. Their wide openings make it easy to scoop from, and come in three different sizes, each of which are perfect for bath and body products! I love these for whipped body butters  and milk baths too. Another thing to love about SKS Wide Mouth Canning Jars is that they are made in the USA and 100% recyclable.
These jars come with a variety of lids. I chose the red metal lids for their festive fall vibe, but I usually opt for silver or white when I'm stocking up my natural beauty pantry.
Looking for more crafty gifts ideas? Check out my tutorials for making Amethyst Soaps, Bubble Bath Bars, and Neroli Vanilla Milk Baths.
This blog includes links that earn a small commission when purchases are made after those links are clicked. These links do not cost you anything extra, but they help support Mary Makes Good, a small, mama-powered project.